Honor the memory of a lost pet or celebrate the life of your beloved furry companion.
Pets, whether they are dogs, cats, birds, or any other kind of animal, play an important role in our lives. Whether it's a memoriam to a passed friend or you'd like to show off your current companion, these tributes are a way to honor those who give us affection and emotional support.
Donate to Meals on Wheels Waco's Pet Tributes program and show the appreciation you have for the one with a permanent spot in you heart. Your gift will help provide food and veterinary care services to some of the pet-owning seniors we serve and help them care for their pet companions. We will post your pet's tribute on this page as well as on Facebook.
Happy 2-month adoption anniversary, JD!
Today marks the two-month anniversary of the addition of this little guy to our family. A Heinz 57, we were informed of two names — "Spot" and "Booberry" — that he had prior to coming to us. Caring little for either, we settled on "JD (John Doe)". Approximately a year old, JD has taught us several lessons, the most important of which is to never leave anything of value anywhere within his reach (we have had to bid farewell to 2 pair of shoes, a carpet, and other sundry items). Still, JD has made his way into each of our hearts in an extraordinarily rapid manner. A warm "thank you" is extended to Amanda Weaver for having rescued, fostered and eventually introducing this fine young lad to us.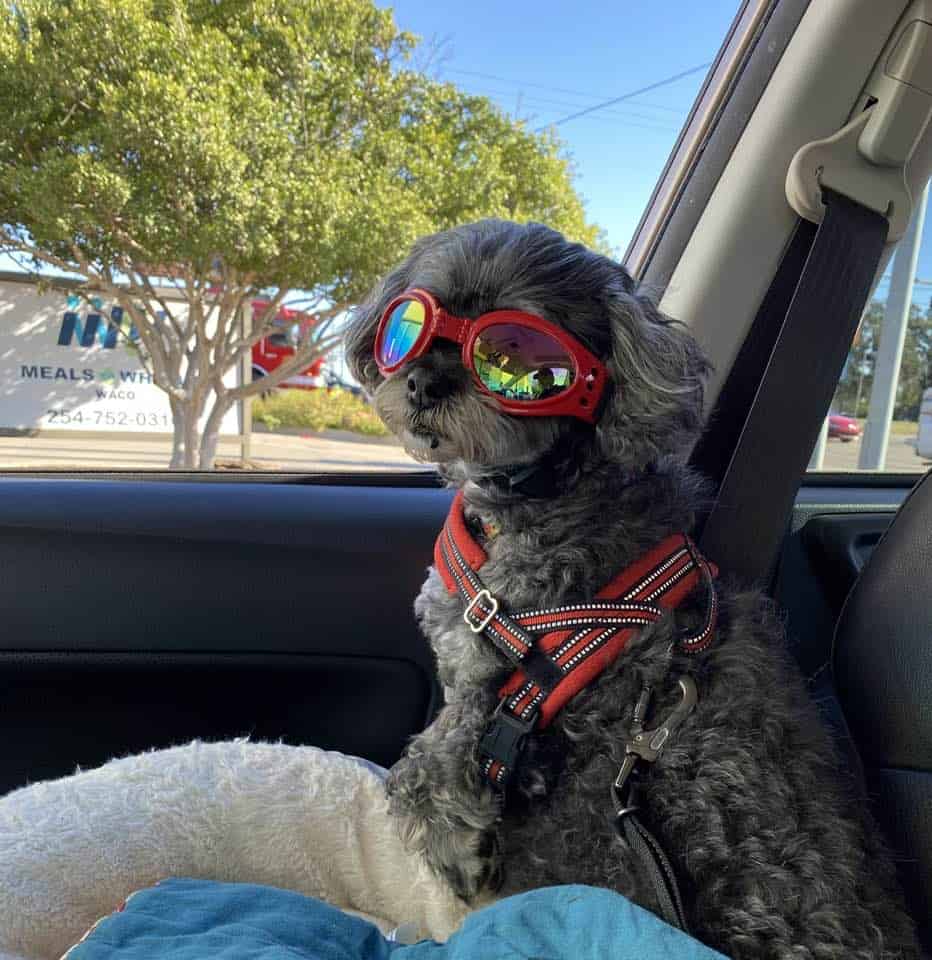 HAPPY ADOPTION ANNIVERSARY, MAGGIE!
Maggie is one of our coolest four-legged volunteers — helping to deliver meals twice a week with her mama Pam Smallwood. Pam found Maggie online after following a bunch of rescue organizations within a 100 mile radius of Waco for many months. She popped up on Pam's screen one night. Pam shares: "I asked for a meet up the next day and was rejected because I didn't live in the DFW area. I wrote them a long email about what I could offer a dog and got a phone call within hours saying they were so moved by my email, they were going to make an exception to their residency rule. On March 1, 2020, I drove to Fort Worth to meet her and it was love at first sight for both of us! I had no idea, of course, that the world would shut down 10 days later! Needless to say, we became extremely dependent on each other's company quickly! Walking became our thing and we've clocked about 6,000 miles together now. Maggie's arthritis was so bad that on some of our walks that first year, she was in a stroller. That stroller hasn't been touched in over 2 years and she even does steep mountain trails when we go see my Colorado daughter. She just needed good food, exercise, and a smart vet! And love!
Join us in wishing this sweet, gentle girl a happy 11th adoption anniversary tomorrow, February 4th! Lucy, a mixed heeler and collie, was about two years old when Ruben and Rachel adopted her. She's a great gardening companion, hiking/walking partner, and HEB-curbside pickup sidekick. Now about 13 years old, Lucy has some tricks up her furry sleeves, but everyone's favorite is what she does when you say "peekaboo" (see her photo). We love Lucy!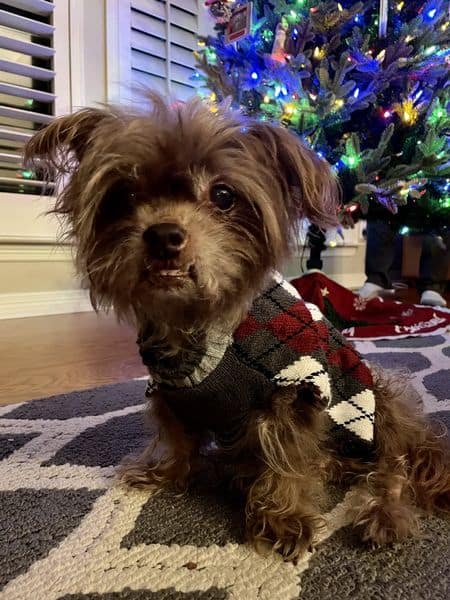 Hershey celebrated one last Christmas with his family and crossed the rainbow bridge on December 26th. This little guy, a cairn terrier mix, lived to the ripe old age of 17 plus years. His mama Vanessa Zertuche Salazar says, "he was with us as we opened gifts, ate his frosted cookie from his stocking, and never stopped wagging his tail. He passed peacefully in his sleep, snuggled in bed. He gave us 15 years of love and laughs. We love you Hershey. We know you are snuggling up with Mocha Bear right now."
Last Friday, we received a pet food donation in honor of this beautiful, sweet-looking dog. Maggie crossed the rainbow bridge recently. According to Jeannette Marsh, "Maggie was a rescue, though she found us. She just walked across our lawn one day and got into the car with the kids. She was a dear, sweet dog and a lover of (almost) everyone. She'd be happy that her food was going to other dogs who are cared for and who love their humans." Thank you, Maggie! And thank you, Jeannette, for sharing with us about Maggie.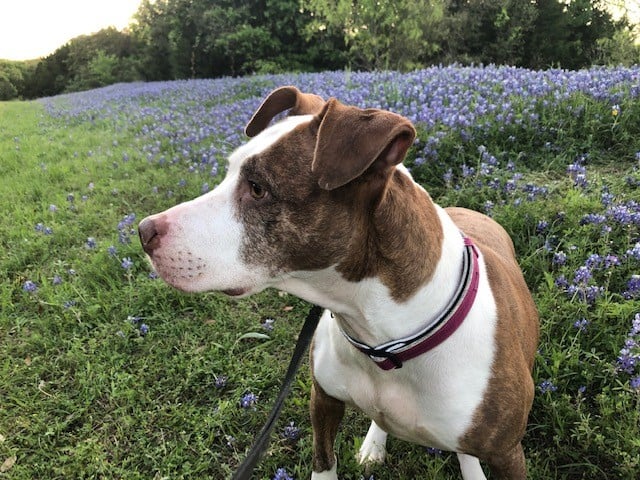 Chow mix brindle dog Ann crossed the rainbow bridge in 2017, but her mom Dee Hutchison still misses her so much. Someone had left Ann — still a puppy — in Dee's driveway in 2002. She reminded Dee of little orphan Annie, hence the name Ann. She lived a wonderful 14 1/2 years with her family. "She was the best girl ever," says Dee. "She followed me everywhere and was very protective. I still miss her."
It's been four years and two days since sweet Kirby crossed the rainbow bridge. She lived a long, happy life with her humans. A rat terrier, Kirby brought joy to her family for nearly 16 years. "I still miss my baby girl," Kathe McGinnis says. Join us in remembering Kirby!
Farewell my dear four-legged friend! Of all the many dogs we've owned over the years, I've never known one to live such a tragic life as our 150-pound St. Bernard. We acquired Sadie in April 2017 from a no-kill shelter that my son volunteered with, and though she quickly warmed to my son, it took nearly a year before she was comfortable around other adult males. (Children, on the other hand, were a completely different issue — she adored little ones.) We had an inkling as to why she struggled so when, in 2019, Sadie was diagnosed with a fatty tumor that enveloped one of her leg muscles. When the technicians did a scan to determine the extent of the tumor, they discovered a BB lodged in her left flank. Though Sadie miraculously survived the tumor treatments, within two years she lost near-complete mobility in her back legs. But the evening of August 25 proved to be the final straw when she was diagnosed with a twisted stomach. I find myself wishing I believed in reincarnation, because I could then hope that my sweet-hearted Sadie — who lived such a fraught existence — might return one day as the most pampered pet ever. Please join us in saying "Goodbye" to our most precious soul. — David Skelton
Your donation will directly benefit our Pet Program, allowing us to provide food and preventive veterinary care services to help seniors care for their pets. To create a legacy for your furry friend, fill out the form below. Once you hit submit, you'll be taken to a page where you can leave your donation.